Intro //
When buying a home, you should be advised by your estate agent and solicitor to get a home or building survey. We're hoping you already have and that's why you're here! All our surveyors are members of the Royal Institute of Chartered Surveyors (RICS) so are qualified and experienced to conduct a thorough survey for you.
RICS has done research that found home buyers are often confused by the products on offer and many are not aware of what survey they've paid for and what it should include. They're introducing a new home buyers survey standard to simplify the process and language used in surveys and standardise their format to ensure they are all clear, honest, upfront about costs, and provide definitive value to clients. We're proud to already adhere to these standards with our Level 2 and Level 3 surveys.
Choosing which survey is right for you and your property can depend on many things, such as if you need detail on costs, the age of your property and its general condition. It's essentially a health MOT for your house.
Get an instant quote for your property survey here.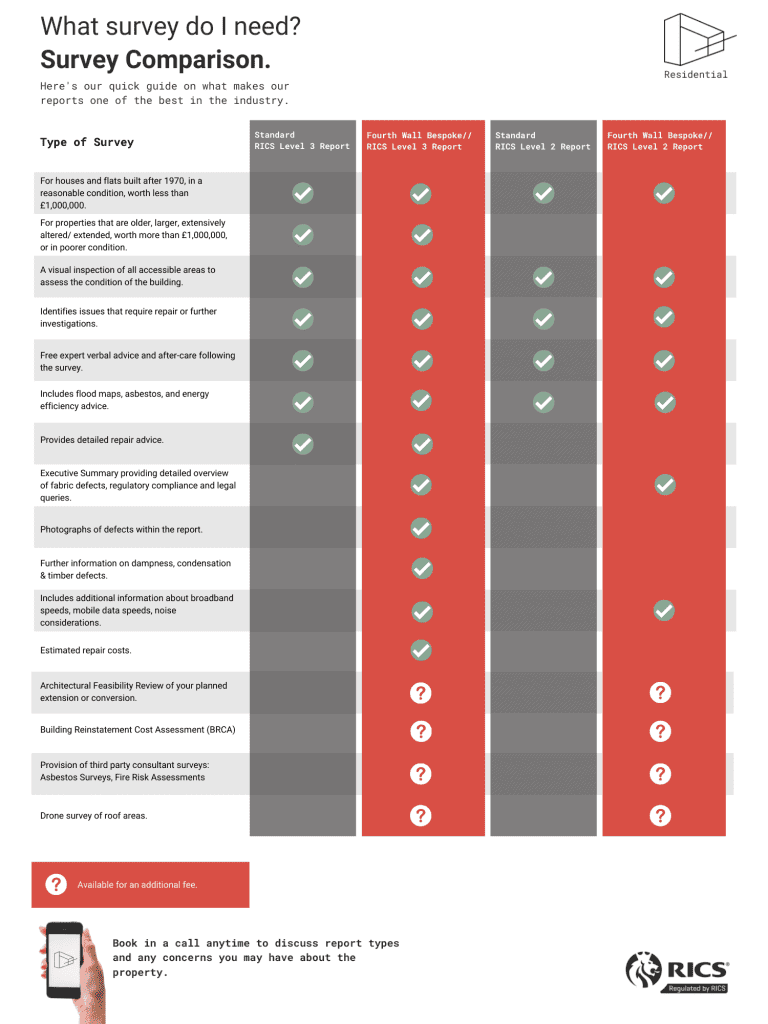 What is a Level 2 Homebuyers Survey //
Level 2 surveys, also known as a homebuyers survey, involve an inspection of easily accessible areas of the property and will highlight serious issues relating to the building fabric and services such as gas and electric. This level of survey highlights defects identified but will not provide a detailed analysis, explanation of potential remedial options, or predicted costs.
In our Level 2 surveys, we provide an overview of the condition of the property, what repairs are needed, and guidance on further issues your solicitor should investigate. If your house is a fairly new build, a Level 2 survey should be sufficient as there are unlikely to be significant or historic defects, but in older properties we always recommend a level 3.
What is a Level 3 Full Building Survey //
If you're looking for something more in-depth with full cost guidance, if the property was built pre-war, or is in a general poor state of repair, we'd suggest getting a Level 3 survey, also known as a full building survey. This survey is much more thorough, will access all areas of the property if possible, and will identify significant repairs and defects outside of routine maintenance. A Level 3 survey will give full details of what the issue is, why it's an issue, why it's occurring, what will happen in future if it's not dealt with, timescales for work to be done, and costs of the work to repair, so you will have full peace of mind of the condition of the property you're buying.
We think our full building surveys are free, because we'll provide you with a comprehensive survey from a RICS chartered building surveyor, with clear advice on the property's condition and costs associated with any defects, so you can negotiate with your vendor on the price of the property, or even help you decide whether to go ahead with the purchase. Have a look at an example of our Level 3 full building survey here.
Why use Fourth Wall //
We guide you through the process, not just provide you with a one-off report. Our small team of knowledgeable surveyors are always at the other end of the phone so you can discuss the findings directly with your surveyor.
Our bespoke reports provide risk ratings and a traffic light system so you can immediately understand what you need to worry about. We remove the jargon and talk to you in a language that everyone understands, and provide photos throughout your report so you can easily reference any issues without any hassle.
Get an instant quote for your property survey here.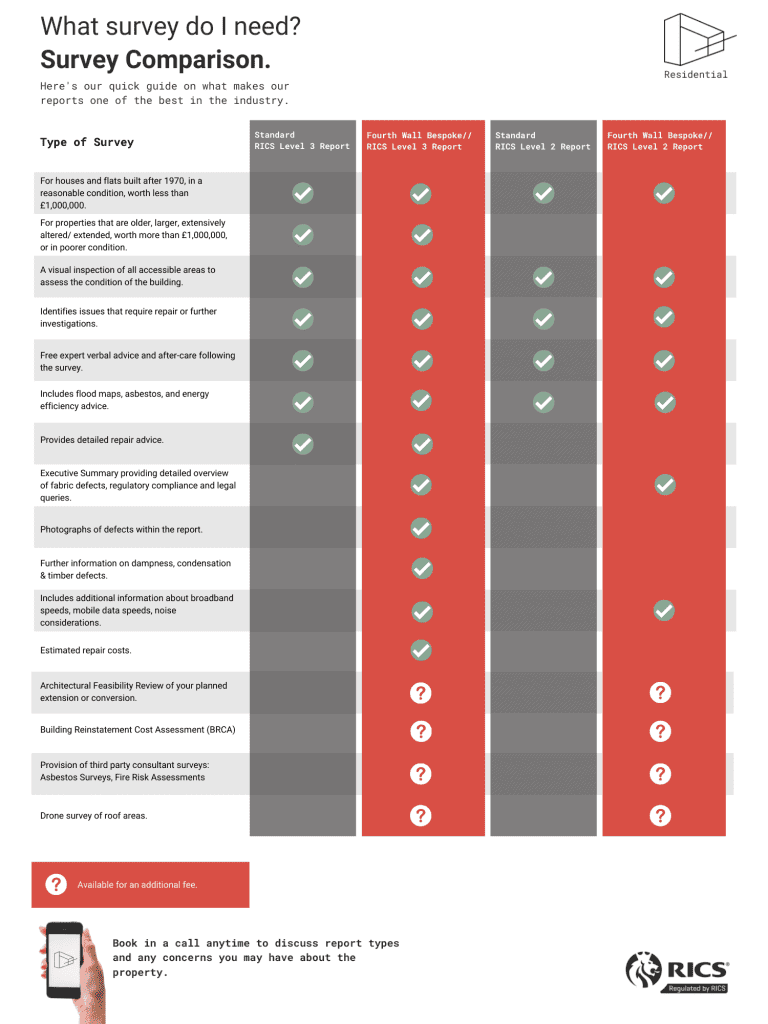 Get in touch via our instant quote, or arrange a call with our expert team➡️
Check out our full list of services here or get in touch for a chat.
To learn how we write and review our content for accuracy, take a look at our Editorial Policy.