With the ever-impending climate crisis upon us and changes in living and working practices in a post covid world, the need for sustainable architecture which provides a tangible connection to the natural world has never been in sharper focus. Occupiers, customers and employees are taking greater care when deciding where they work, shop and eat out.
Biophilic design is focused on connecting humans and the built environment to the natural world through the use of nature in architectural design, be that through new constructions or the redesign of existing buildings.
For most of us, our natural habit is largely within the modern built environment, through where we both live and work. With more homes being built and the population of cities ever growing, this isn't changing any time soon. The use of biophilic design seeks to enhance the spaces we spend our time in by incorporating the natural environment and the positive benefits an easy connection to nature brings us, be that through improved air quality or boosted mental health.
If you're a city dweller, you'll likely have noticed one of the most popular concepts of Biophilic Design: green roofs. In 2018, it was found that 32% of all horizontal spaces are unused rooftops, and with benefits for both people and the environment, such as supporting biodiversity and wildlife, improving thermal performance of buildings, and allowing people to take a physical and mental break from the stress of work by connecting them to nature, green roof's are becoming increasingly popular atop city centre office buildings, apartment blocks and retail spaces for this reason.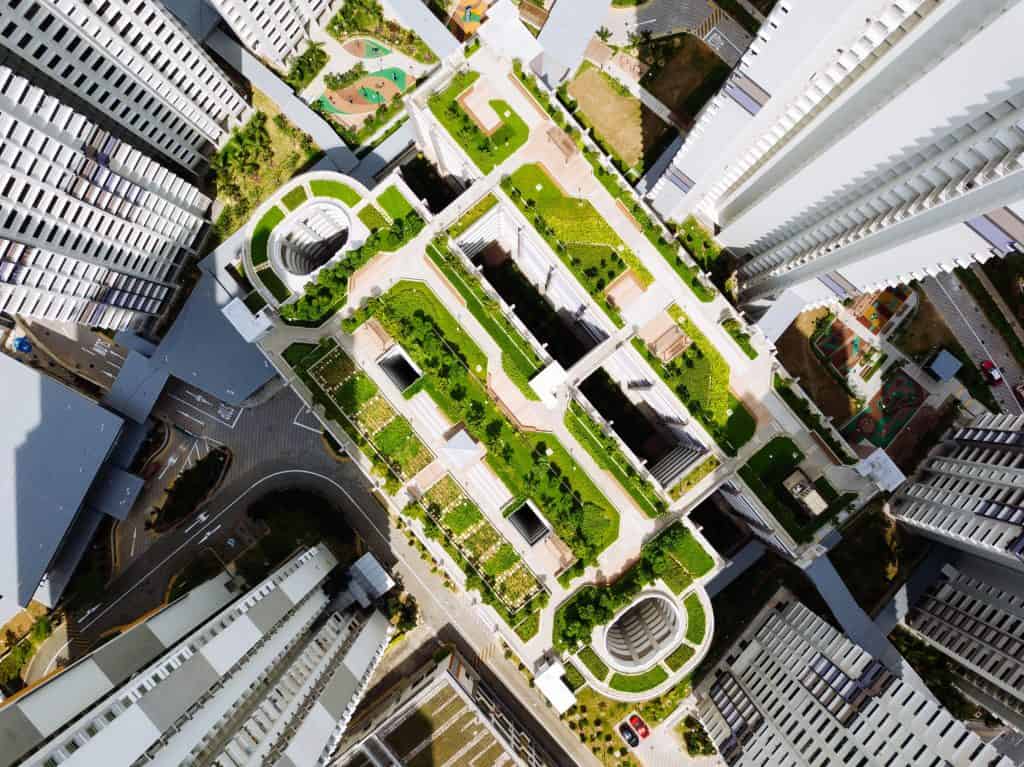 From Stockport to San Francisco, biophilic design is being used to transform corporate spaces and add greenery to industrial areas. As part of a multi-million-pound regeneration scheme, a two-acre park atop Stockport interchange has been given the green light in an attempt to offset carbon emissions and give further green space for locals to enjoy. On the other side of the pond, ATXK have been inviting nature inside their offices to help employees feel a sense of freedom in a positive, healthy workspace.
Biophilic design incorporates three key principles; Nature in the space, referring to the direct presence of nature, Nature of the space, focusing on taking inspiration from the spatial configurations in nature, and Natural Analogues, which uses indirect methods to reflect nature. The use of these principles drives towards a fundamental goal of Biophilic Design: to create a good habitat for people inhabiting modern structures, landscapes and communities.
If you own or manage property and are keen to incorporate nature, but a green roof is a stretch too far, incorporating biophilic design through the use of living walls is an option for both interior and exterior areas. Both contributing to improved air quality and acoustics, along with better productivity and creativity, living walls have been noted to significantly increase workplace satisfaction. In our home town, Sheffield Hallam University have made use of this, redeveloping the atrium at their city campus to make use of biophilic design features such as living walls, whilst over in New York, Luxottica have been making use of living walls in their main office breakout space to encourage a relaxed and social space for employees.
Even small changes to an office or retail fit out specification, such as the use of natural materials and colour pallets in favour of previously desirable and low-cost composite plastics and metals, can help evoke a connection to nature within the great steel and concrete boxes we call our urban built environment. As businesses begin to encourage employees back to the office, biophilic design is certainly something for property and business owners to explore.
Looking to the future, we cannot deny the need for more sustainable choices in the way we live and work. Biophilic design presents opportunities for both residential and commercial property to improve the environment for those living and working in these spaces by incorporating nature and greenery simply and effectively into everyday life. With questions still arising over how to adapt cities post-Covid, we're expecting to see the use of biophilic design increase in the years ahead. 
To learn how we write and review our content for accuracy, take a look at our Editorial Policy.